---
Smart
Great design, accessible on
Android and iOS
Secure
Update data directly to avoid delays
to moving containers
Simple
Easy to use with drag and drop
and QR code scanning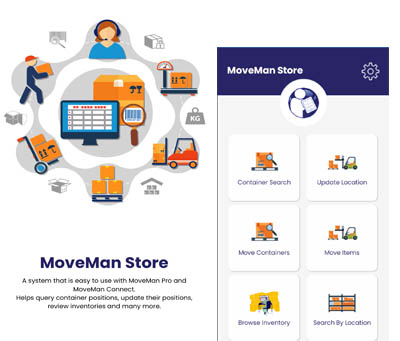 Go Paperless
MoveMan Store is a new app designed and released to help you go paperless with your storage management. Built on Android and iOS platforms, your warehouse staff can locate containers, view container inventories and update locations quickly and easily.
Linked directly with your office, the app works over 4G or Wi-Fi and instantly updates the office when your warehouse staff are moving containers or taking items in or out of store.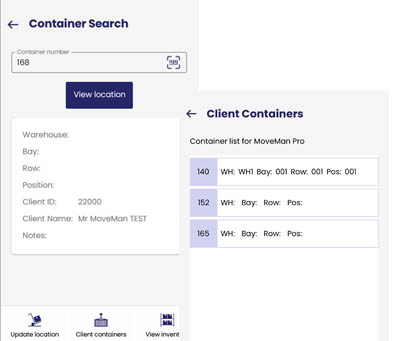 Container Searching
Looking for who occupies a container? Difficulty locating all the containers for a client? MoveMan Store solves this age-old problem and makes this task simple and easy.  Built to search either by container number or QR code, the app quickly displays who occupies a container and any notes associated with the container. Additionally, there is the option to view all the other containers and locations belonging to the client.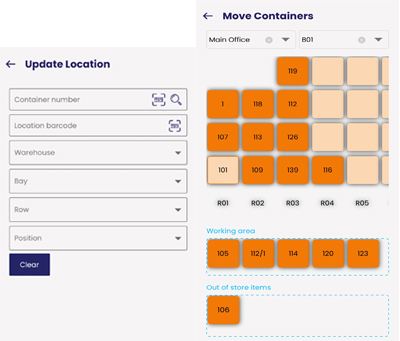 Update Locations
MoveMan Store makes moving containers and changing locations very quick and simple.  MoveMan Store introduces two ways of doing this – by QR code or by our neat drag and drop method.
Our drag and drop innovation for crew and vehicle resourcing in our MoveMan platform has been incorporated into MoveMan Store allowing for container movements simply by dragging the containers or rows into a holding area and then moving them back into location.  All these updates take place instantly so all warehouse and office staff are dealing with the most up to date data. Alternatively each location can be given a QR code that can be scanned to quickly input the Warehouse location plus the bay, row and position.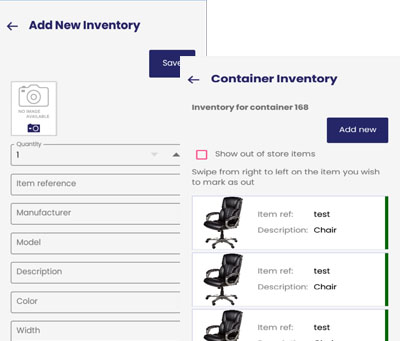 Browse Inventories
Another great feature of MoveMan Store is the ability to view the inventory of items entered for a container.  Once the container has been scanned and located the option to view inventories displays the list of all the items in that container with any pictures associated with them for easy locating.  Items can be marked out of store if they are being taken from the container for delivery or new items can be catalogued, scanned and added into the inventory just from the device.  So there is no waiting for inventories to be brough back to the office and pictures taken on mobiles phones to be uploaded back to the office.
remove the need for paper movement sheets
remove the need to print out lists of location or maintain t-cards or Excel spreadsheets
view items stored in the containers and remove them when they are delivered out
take image and enter new inventory items into store